A few of the featured silent movies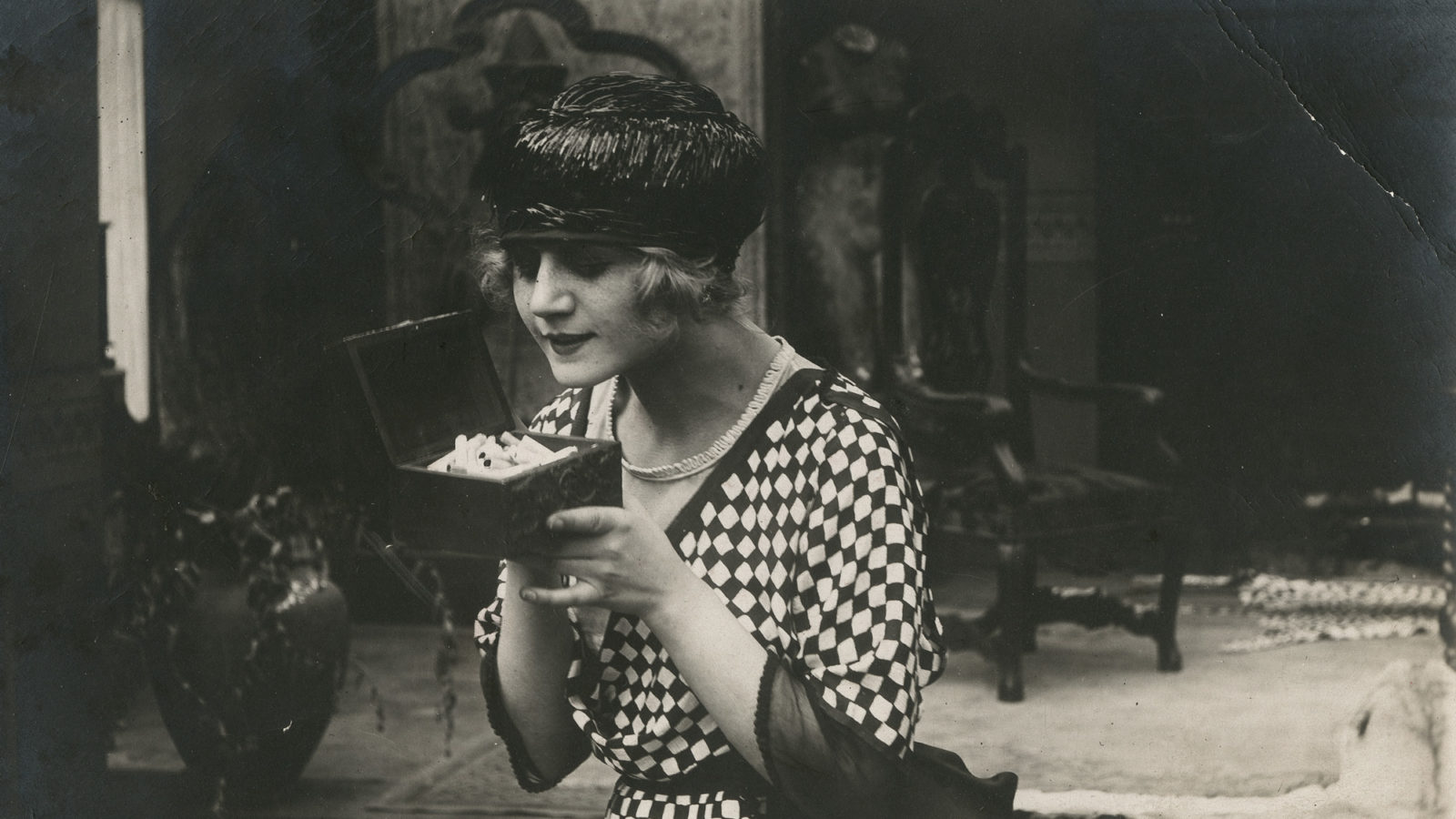 Germaine Dulac: writer, artist, and filmmaker
Germaine Dulac, the most prominent feminist writer, artist and filmmaker of her time. One of the avant-garde cinematographers of the 1920s, Dulac saw film as a new art form for expressing ideas and conveying images in a way which would be impossible or inappropriate in other artistic media. Her films are closer to abstract art or music than conventional cinema, are either surrealist or symbolic (indeed often both), and often revolve around feminine themes. There is a striking originality and distinctiveness in her work that sets her apart from her contemporaries, and her films are undeniably feminine (in the most positive sense).
Méliès Le Magicien - Méliès' work from 1896-1913
Georges Méliès was one of the most important pioneers of early cinema. Before making films, he was a stage magician but became interested in film after seeing a demonstration of the Lumière brothers' camera. Méliès built the world's first movie studio near Paris; from it cascaded fantastic magic films, dream films, historical reconstructions, imaginary journeys, melodramas, and slapstick comedies - even erotic films. He directed 531 films between 1896 and 1914, ranging in length from one to fourty minutes. Because of his ability to seemingly manipulate and transform reality with the cinematography, Méliès is sometimes referred to as the "Cinemagician."
Charley Chase: one of the great geniuses of Hollywood's golden era of silent comedy
Charles Joseph Parrott of Baltimore, Maryland started out in vaudeville during the rough and tumble days in the first decade of the 20th century. This young man fresh off the stage, started working at the Christie Film Company. During the next decade he worked as a juvenile lead, a gag writer and a comedy director. When he changed his name to Charley Chase and found himself featured in the Hal Roach's short comedies, he became one of the great geniuses and stars of Hollywood's golden era of silent comedy. As renowned as Charlie Chaplin, Buster Keaton and Harold Lloyd at the time, Chase easily matched them laugh for laugh. The always-dapper Chase specialized in portraying the pleasant common man with very common skills placed in the most uncommon of circumstances.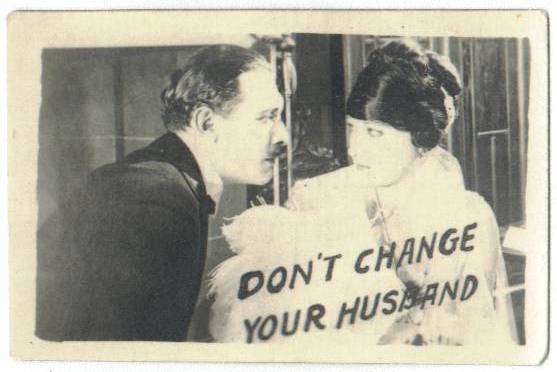 Cecil B. DeMille: one of the most successful filmmakers in Holywood history
Cecil B. DeMille was one of the most successful filmmakers in Hollywood history. Out of the seventy films he claimed as his personal productions, all but six turned a profit, and he remained a leading director of "A" list features from his first film in 1914 to his last in 1956. He was one of the first directors in Hollywood to become a celebrity in his own right. Though DeMille was respected by his peers, his individual films were often criticized by them. "Directorially, I think his pictures were the most horrible things I've ever seen in my life", said director William Wellman. "But he put on pictures that made a fortune. In that respect, he was better than any of us." Among his best-known films are Cleopatra, Samson and Delilah, The Greatest Show on Earth, and The Ten Commandments but many of his films were romantic sexual comedies like the trilogy of Marriage and Divorce.
Buster Keaton: one of the best director of all time
Joseph Frank "Buster" Keaton was an American comic actor, filmmaker, producer and writer. He was best known for his silent films, in which his trademark was physical comedy with a consistently stoic attitude. Born to a pair of medicine show performers, Buster seemed destined for show business. He reputedly made his first appearance on stage crawling on from the wings at the age of nine months. His innate comic gifts were already evident in his first performances; he would stand behind his father, dressed in an identical costume, and, unplanned and unrehearsed, mouth the words of his father's monologue as a silent and grotesque Greek chorus. Buster Keaton (his lifelong stage name) was recognized as the seventh greatest director of all time.
René Clair: An Immortal Movie Maker
After working for a while as a journalist, René Clair soon discovered a passion for cinema while acting in some of Louis Feuillade's films. He made his first film in 1924, "Paris qui dort", a comic satire with a science-fiction theme. Clair developed his penchant for satirical surrealism in films which were highly regarded at the time and which are now considered to be masterpieces. He made one film in Great Britain before moving to the United States where he directed half a dozen more down-to-earth films. René Clair is now universally regarded as one of the most significant figures in French cinema history. His wit, imagination and drive helped French cinema to maintain its pre-eminent position in the 1920s and 30s. To acknowledge this fact, he was elected to the French Academy in 1962, the first film director to receive this great accolade.
Lon Chaney: The Man with the thousand faces
Lon Chaney is regarded as one of the most versatile and powerful actors of early cinema, renowned for his characterizations of tortured, often grotesque and afflicted characters. Due to his special make-up effects he carried the characterization to be "the man with the thousand faces". As a child of deaf adults, Chaney became skilled in pantomime, and found stage work early. He toured as a comic song and dance man before attempting a screen career. Lon Chaney's greatest success came in two dramatic roles, "The Hunchback of Notre Dame" (1924) and "The Phantom of The Opera" (1925).
The Triplets of Belleville
"The Triplets of Belleville" is a strange, largely wordless animated feature by French filmmaker Sylvain Chomet. It tells the story of Madame Souza, an elderly woman who goes on a quest to rescue her grandson champion, a Tour de France cyclist, who has been kidnapped by the French mafia for gambling purposes and taken to the city of Belleville. She is joined by the Triplets of Belleville, music-hall singers from the 1930s. The film uses the visuals to convey the storyline relying on facial expressions and body language to spell out the major plot points with distortion of shape, line and form, particularly in regards to the human figures. This film was highly praised for it retro animation style.
Comedy, Comedy, Comedy
Almost eighty years past the end of the silent movie era, silent comedy is still alive with a series of the funniest actors of the silent era, the best-loved comedians in slapstick film as Charlie Chaplin, Charley Chase and Snub Pollard... Some are still well-known, some have been forgotten, but all of them were the stars of the silent comedy that influenced the modern comedy.
Le Mime Marceau: "Don't say a word!"
For 70 years, this Frenchman embodied an art form without uttering a word! Marcel Marceau (1923-2007) has been acknowledged as the world's greatest practitioner of pantomime. Starting as a child mimic of Charlie Chaplin, whose "Little Tramp" character in silent films made him laugh and cry, Marceau by the age of 30 had became the singular embodiment of the ancient art of mime. He also took mime to a new dimension. One of his secrets was Marceau's ability to incorporate cinematic techniques. He became a worldwide figure, eventually giving 18,000 performances in over a hundred countries.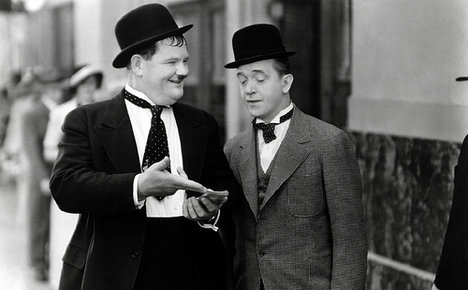 Laurel and Hardy: the most famous duo of the 20th century
The most popular and successful comedy team in entertainment history was Stan Laurel and Oliver Hardy, the timid thin one and the bossy fat one, who made an unbroken string of shorts (20 minutes each, as many as 13 a year) from 1927 to 1935. Since they began so near the 1929 arrival of full sound, and moved into talkies more smoothly than practically any other stars, comic or otherwise, it is often forgotten that they began in silent. Indeed, purists have always maintained that the best of Laurel and Hardy were their silent two-reelers-all made in the first two years of the team's existence-and that the level of hilarity they achieved without dialog was never matched in the talking era, even though their voices perfectly suited the pantomimed personas they had so brilliantly established. These rare silent comedy classics have been collected in "The Lost Films of Laurel and Hardy" and represent the formative years during which Stan Laurel first developed and honed all the gags and set pieces that this legendary comedy team would use during their entire film history.
on screen: